Some old articles and press pics of Anita Wood, whom EP had a serious relationship with prior to leaving for the army in 1958.
From winning the 1954 Mid-South Fair Youth Talent Contest in Memphis at the age of 16, the Jackson, Mississippi teen went on to lead radio and TV shows, including co-hosting the "Top 10 Dance Party" program in Memphis, where Elvis first became infatuated with her.
Anita Wood was a talent to be reckoned with. She was gorgeous, she had charisma, and she had a great singing voice.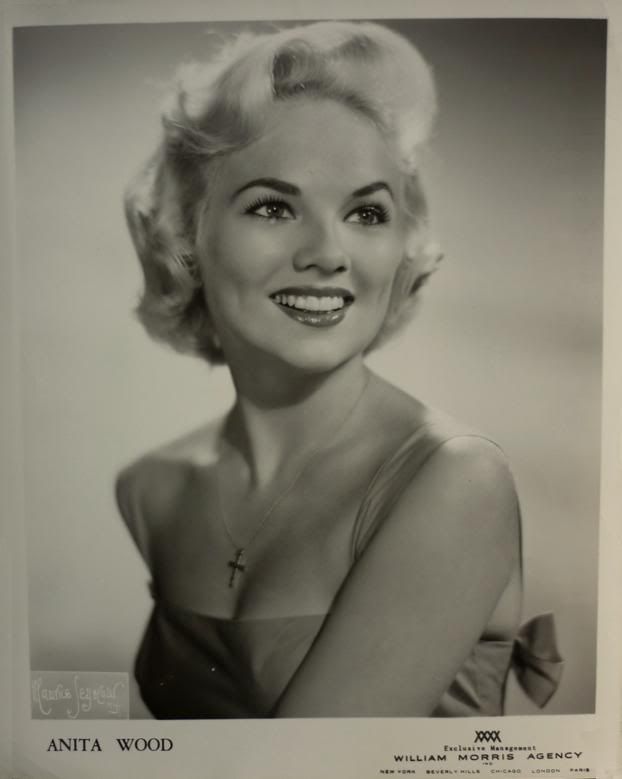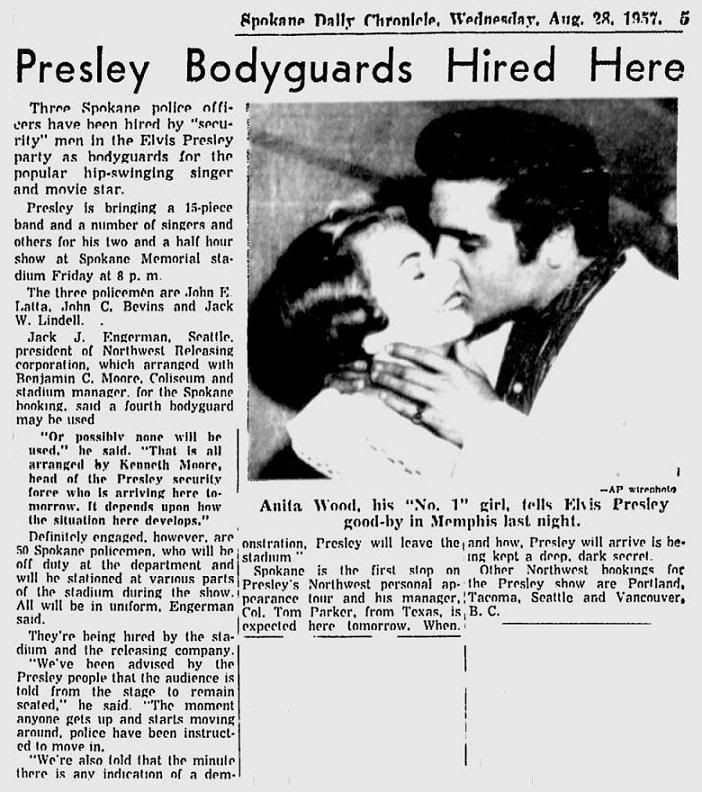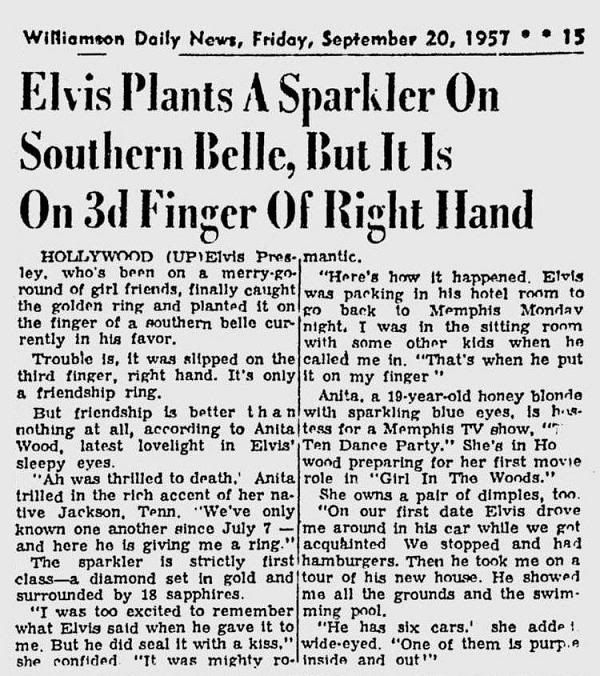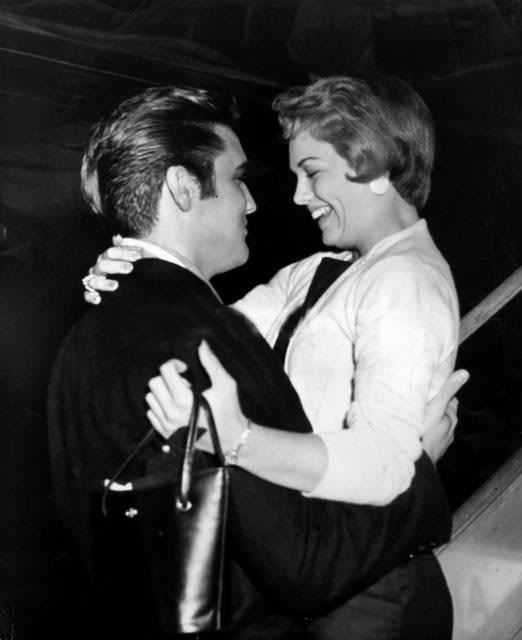 Note the "friendship" ring on her right hand. Anita would remember the gift as one of the most meaningful highlights of her time with Elvis. Many years later she gave it to her daughter, who has it to this day.
Anita ended up turning down the B-movie role, after some pleading from Elvis. And, ultimately, she would never make a film in Hollywood. But she hadn't given it all up yet.
The William Morris Agency booked her on various southern and western tours, and in New York in 1958 she made appearances on NBC-TV's "The Tonight Show With Jack Paar" (October 20), "County Fair," a daytime NBC-TV game show hosted by Bert Parks (September 21), and four or five appearances (in August and September) on a replacement series for CBS-TV, "The Chevy Showroom Starring Andy Williams."
While in the Big Apple, Anita also studied acting at the Lane Theater Workshop. One wonders if it ever crossed Elvis' mind to hone his acting chops at a New York acting studio ?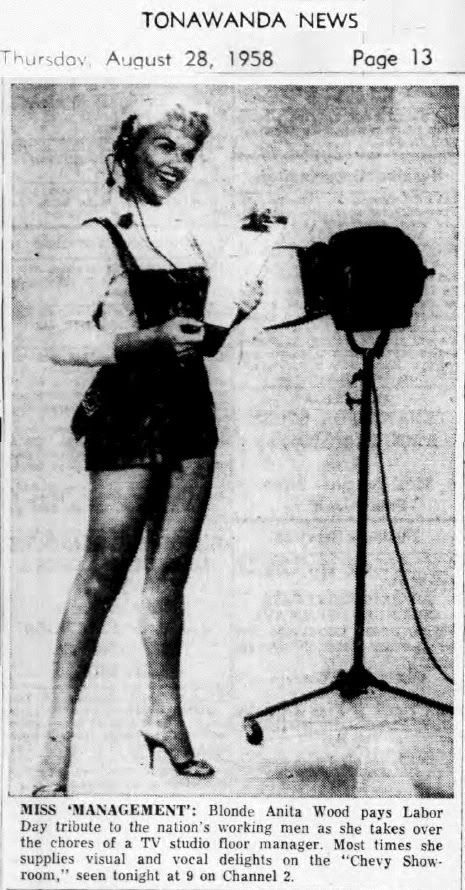 Anita "Miss Management" Wood - "The Chevy Showroom Starring Andy Williams" (CBS-TV)
Tonawanda News, Thursday, August 28, 1958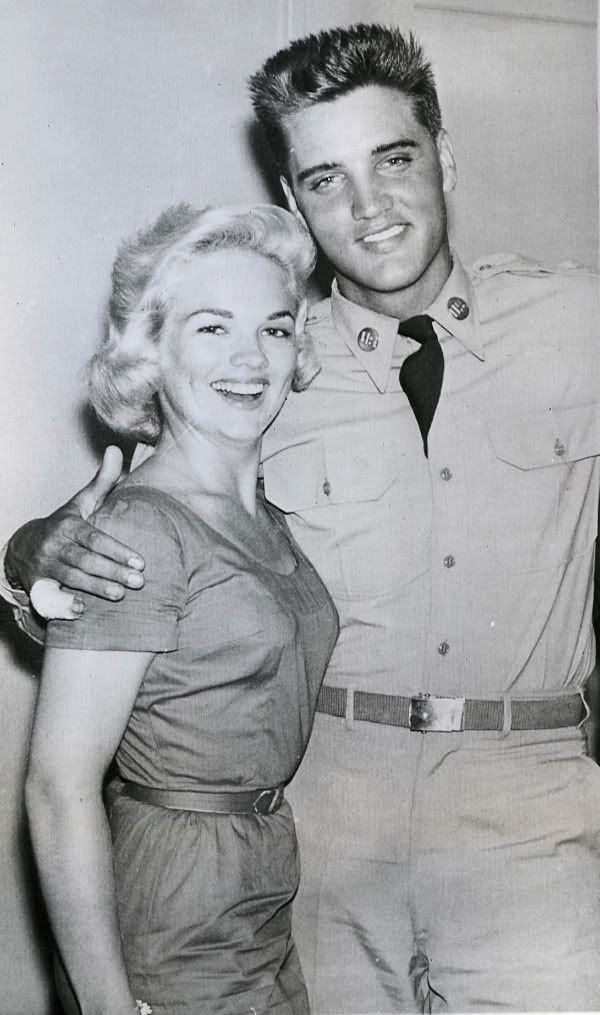 Anita and Elvis in Waco, Texas - May 17, 1958
This image went over the AP news wires days later, much to Elvis' spite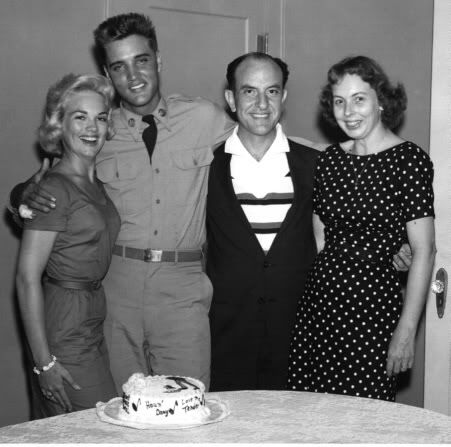 And even though Elvis had an extended Memphis break at the beginning of June 1958, Anita fulfilled a recording commitment in New York.
https://www.youtube.com/watch?v=sdOnEXv2rIE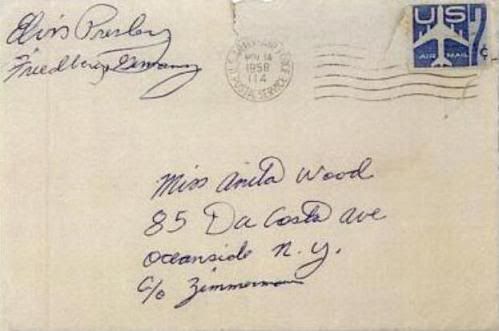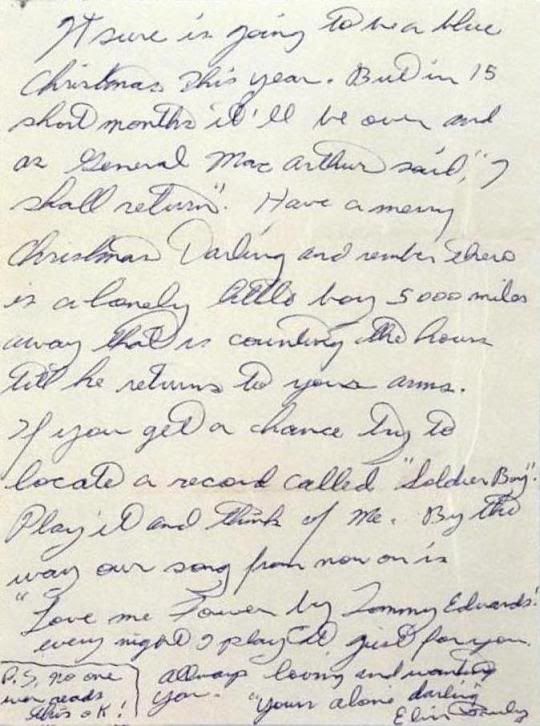 Elvis kept his "#1 girlfriend" in his sights throughout his days overseas in Germany, with lots of fervent letters and phone calls. Anita claims she was all set to visit him in 1959, but Col. Parker managed to keep her out of his sights.
After Elvis returned to America in March 1960, they remained more or less together until the summer of 1962, when it was clear to Anita that a true commitment would never happen.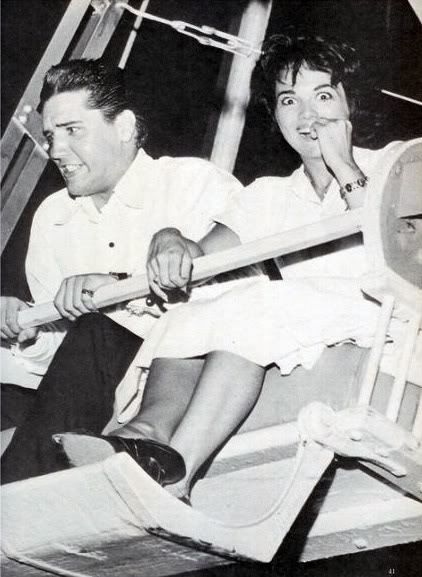 Elvis and Anita at the Fairgrounds, Memphis - Monday, July 11, 1960
Notice Anita temporarily dyed her hair black, to please her boyfriend.
When Anita finally said good-bye, the Memphis Press-Scimitar reported it as "Elvis' Long-Time Girlfriend Anita Wood--Says It's All Over" on August 6, 1962. In it, Anita stated she wished to just pick up the pieces of her career and that her next single was to be titled, "Love's Not Worth It."
Anita would continue to perform -- from 1962 to 1964 she sang weekly on another Memphis TV show -- and release records, for Memphis-based labels like Sun and Santo, but as good as they were, they never caught fire.
Anita is 79 now. Still looking fabulous !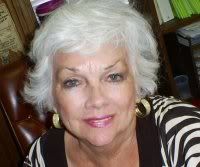 Many fans rightly believe Elvis would have had a much different life if she'd not been ... the one who got away.